A surprisingly simple app that changes your habits.
Staying Home Habits
As we are all staying at home due to the coronavirus (COVID-19) there has never been a better time to improve daily routines and to create new healthy habits. The team at the Habit App has already added some habits you can easily track in the app.
See full list of popular and recommended habits
Focus Habits App
Make it Your Best Day
Simple – Minimalist design
Keeps you on track
Success chains – try not to break the chain
Smart daily reminders
Streaks to keep you motivated
Statistics – just enough
Customizable – colors, time, and more
Based on the latest research

NO IN-APP PURCHASES. All features are free and unlimited.
Habits – Track New Habits

Best Day of Your Life
Create new habits and make them stick. Developing new habits is hard, and this is why we created "Habits" so you can track your progress.
Routines and habits are the key to have the "best day of your life", and this app will help you.
66 Days Challenge
Research shows that it takes 66 days to form a habit. The app lets you define any habit you want to track along whit the situation and the reward you should give yourself.
Track Forever
After the 66 day challenge for a habit is completed the app will keep tracking your habit for as long as you need. 
Not a To Do List
Other habit trackers are often just a todo list manager. This app is designed to develop, establish and cement habits. 
Your new habit is about receive a BIG tick.
Create Grit with the Grid
We made ticking off those habits you want to cultivate really compelling by using a grid that shows you your effort for the next ten weeks. We know that this approach works better than just a todo list.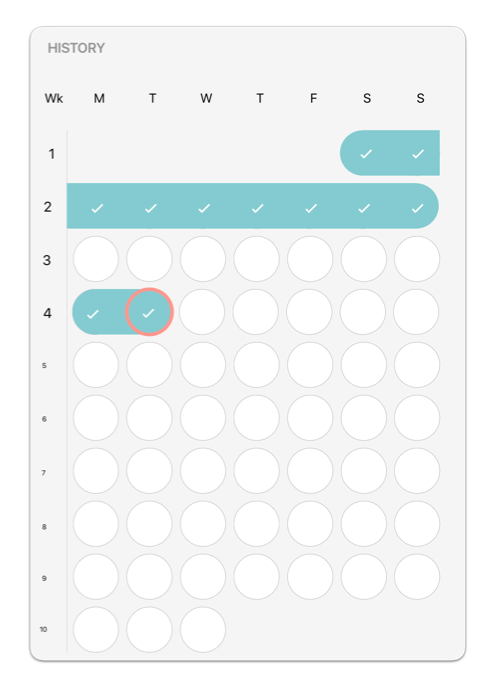 The app uses a grid, similar to a calendar, to show you how you are doing and will motivate you to get to the end of the 66-day challenge of forming a new habit. You can see the patterns of when you are doing well, when you lost steam and when you had your longest streak of consecutive days ticked off. The day grid will be your best tool to track, check, and reflect on your progress. We believe there is no better way to form habits. 
Free App – it's that simple
We don't charge for the app. It's an absolutely free habit tracker. No annoying ads, no premium upsell, no in-app purchase. Simply free.
Just download the app for iOS and start your new habit. 
Features
Works on iOS 14
Dark Mode for iOS 
Today widget
Daily reminders
Customizable colours and rewards
Super simple habit tracker
and more…
Great in Dark Mode
Over 30,000 Users
Focus Habits has a wide user base and our users love the app.
Our User Love the Habits App
5-star ratings
Keeps getting better

The developers are incredibly responsive, kind, and communicative! I appreciate how they keep making this ad free and no upgrade needed app better and better! Thank you!!

by Hiphoposaurus –Dec, 2020
Lovely

Tried a few similar apps, but this free one wins hands down. Does exactly what it's supposed to do, and does it well.

by btocher – Jan, 2020
Super simple. I love it!

by letprado
I like the simplicity and the new design. The user interface is so easy to use. Really enjoy the new features. I was waiting for reminders and now they are finally in the app. Great update.

by Lynn
Best habit tracker

I've has several habit trackers, with reminders, and this is by far the best.

by midknyght
Nice app, design and functionality

Great app, minimalistic stylish design, that does not distract you from everyday logging of your habits completion. With the new update: no crashes and all is great!

by yusinyusin
This app was good before the latest updates but is even better now. As a bonus, besides being free, developer actually personally corresponds with you. What a breath of fresh air.

by notdefeated
Be Your Best Self
Everyone needs some help with changing habits like doing regular workouts, meditation, going for walk, or to the gym.
Reminders are great and nudge you to do your yoga routine, take your vitamins, go for a run.
Habit can be used to become a better person, more successful, healthier and to achieve your goals. Using a habit tracker helps you to stay on the path to a happier and more fulfilled life.
(c) Copyright 2018-2021, All Rights Reserved akda.